Haifa is like a huge wedding cake, its top is decorated with Bahai Gardens made of marshmallow and soufflet.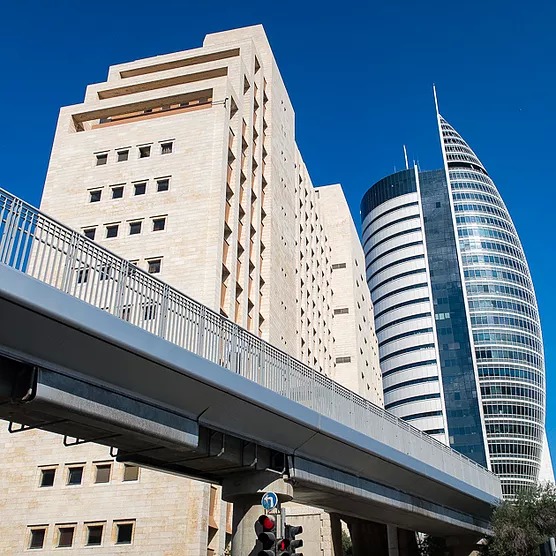 You may step by step go down or climb up this endless ladder, and there will always be the sea behind, and the clouds above you. Sky blue is only five hundred meters away from the sea blue. And between these two layers, like a filling made of waffles and praline, there is the city itself with half ruined Arab mansions and luxurious villas of local authorities, ivy-cloaked Ethiopian huts, cube-like Bauhaus buildings resembling Khrushchev-era houses in Moscow, tidy houses of German Templers, and the only skyscraper, be it a sail or a corn cob.
Add to this sea blue color pink Bouganvillea clusters, fiery jacaranda buds and scarlet flowers of hibiscus, green palm and cypress trees – all these are like rosettes on our cake, which we are going to eat together slowly savoring every piece, just like we are savoring every moment of this wonderful life in a strange city called Haifa. We will find out that this city smells of sea, pines, salty fish, doner kebab, cardamom, cinnamon, mixture of intoxicating herbs and spices. If you go from the Lower city via Vadi Nisnas to Hadar, you will get lost in this maze of narrow streets and find yourself in a real fairy tale of Aladdin and the Wonderful Lamp.
We will pass each layer from white beaches of Hof-Ha-Carmel and Bat Galim, via Hadar and Ahuza, up to the top of the saint Mount Carmel.
We will see that elevators in Haifa go down, and every window reflects the sea. What for do you need windows if they don't look out on the sea or the blossoming garden or if you don't see green hills out of them?
We will try the best humus and coffee, and following the law of eastern hospitality, will enter the houses of the best people who have succeeded in life. However, their success was not easy to achieve. They were just able to live and they can live and see something which is hidden from others. They do weird things. Some of them sell something in a flee market, while others have been composing a great symphony for the whole life. One hijacked an airplane, and another walked all over the Holy Land in search for the truth. Our heroes are madmen, brilliant scientists, actors, writers, warriors…
While our main hero is the city itself. The city, which is reflected in people. And people imprint themselves in it just like in the ancient daguerreotypes, either in sepia or in blue.